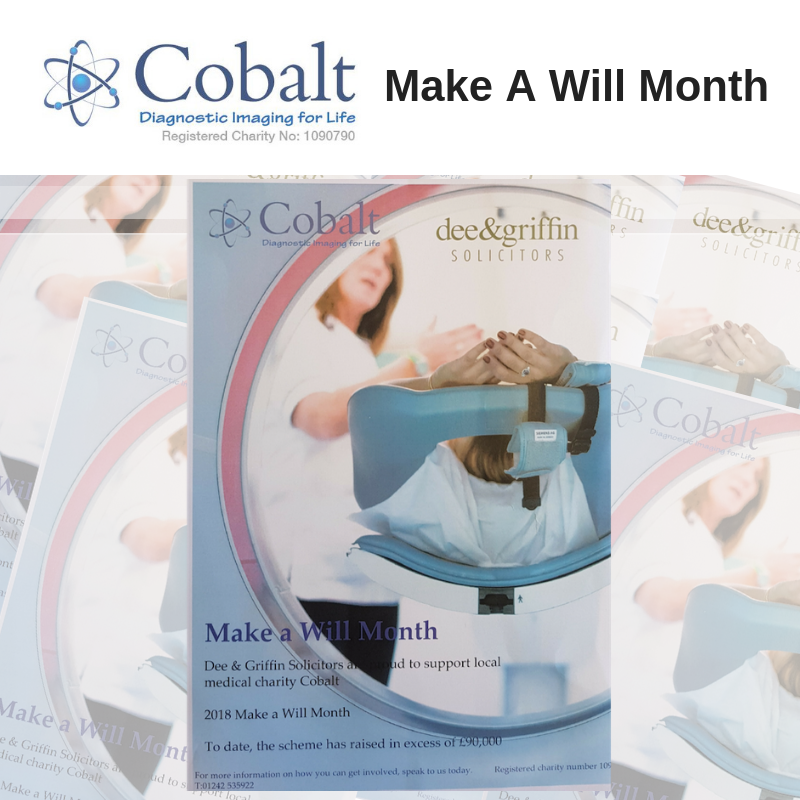 Make a will month
April is make a will month and Dee and Griffin solicitors are proud to announce themselves one of the accredited solicitors involved in the appeal in association with Cobalt Health Charity. Gloucestershire based Dee and Griffin work tirelessly with local charities, it is fundamental to their business to be able to give back to the local community.
Now, nobody ever really wants to think about writing a will but as Benjamin Franklin once said, 'nothing can be said to be certain, except death and taxes'. It is just one of those inevitable facts of life, and ultimately, we all want to protect and provide for our loved ones, even after death. Highlighting just how important it is to have a will, a will ensures you have the power and control to distribute your estate exactly how you wish. Without a will it would be left to the state to decide how your money and possessions are distributed, based upon the law. 'Dying intestate' makes the whole process of sorting out your estate after death quite a bit more stressful and complicated for those left behind. However, having a will produced by a reliable and experienced solicitor can remove all these potential problems.
Our specialist team at Dee and Griffin, are offering their will writing service this month in exchange for a suggested donation to the local, Cheltenham based, Cobalt Health Charity. The suggested donation to Cobalt is £100 for a single Will, £150 for mirror Wills. This is the perfect opportunity to get your affairs in order with a professional will writing service at Dee and Griffin Solicitors, whilst helping a local charity that has been running for over 50 years to support the lives of patients suffering with cancer, dementia and other conditions.
Our experienced partner Dean Barnard, who specialises in writing wills however straight forward or complicated is delighted to be a part of this fabulous incentive throughout April for Make a will month. Dee and Griffin are proud to be a local company supporting a well known local charity to help raise much needed funds for the Cobalt Health Charity. To find out more about this incentive visit https://www.cobalthealth.co.uk/support-us/make-a-will-month-2/ . All of us here at Dee and Griffin are truly proud to be part of Make a Will Month 2018.  If you require further information about writing your will or the services we offer; please call us on 01452 617288 or email info@deeandgriffin.co.uk.